Panayiotis Georgiou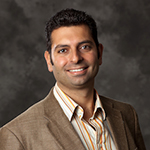 Adjunct Research Assistant Professor of Electrical and Computer Engineering
Education
Doctoral Degree, Electrical Engineering, University of Southern California
Master's Degree, Other Engineering, University of Cambridge
Master's Degree, Electrical Engineering, University of Southern California
Bachelor's Degree, Other Engineering, University of Cambridge
Biography
---
Panayiotis G. Georgiou received the B.A. and M.Eng. degrees (with Honors) from Cambridge University (Pembroke College), Cambridge, U.K., in 1996, where he was a Cambridge-Commonwealth Scholar, and the M.Sc. and Ph.D. degrees from the University of Southern California (USC), Los Angeles, in 1998 and 2002, respectively.

Since 2003, he has been a member of the Signal Analysis and Interpretation Lab at USC, where he is currently an Assistant Professor. His interests span the fields of multimodal and behavioral signal processing and speech to speech translation. He has worked on and published over 100 papers in the fields of behavioral signal processing, statistical signal processing, alpha stable distributions, speech and multimodal signal processing and interfaces, speech translation, language modeling, immersive sound processing, sound source localization, and speaker identification. He is a senior member of IEEE. He has been a PI and co-PI on federally funded projects notably including the DARPA Transtac "SpeechLinks"; the NSF "An Integrated Approach to Creating Enriched Speech Translation Systems"; and "Quantitative Observational Practice in Family Studies: The case of reactivity." and DoD "Technologies for assessing suicide risk."

He is currently on the editorial board of the EURASIP Journal on Audio, Speech, and Music Processing, a guest editor of the Computer Speech And Language journal, the Technical Chair for Interspeech 2016, and a member of the Speech and Language Technical Committee. His current focus is on behavioral signal processing, multimodal environments, and speech-to-speech translation.


Research Summary
---
His current focus is on human communication analysis, behavioral signal processing, speech processing, including speech recognition, denoising, speech activity detection, and machine learning with an emphasis on Deep Neural Networks.
For news on media coverage and awards of our group please visit
scuba.usc.edu
Appointments
Ming Hsieh Department of Electrical and Computer Engineering - Systems
Office
EEB 428
Hughes Aircraft Electrical Engineering Center
3740 McClintock Ave., Los Angeles, CA 90089
USC Mail Code: 2564
Contact Information
Links