William Clyde Lindsey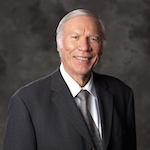 Professor of Electrical and Computer Engineering
Education
Doctoral Degree, Electrical Engineering, Purdue University
Master's Degree, Electrical Engineering, Purdue University
Bachelor's Degree, Electrical Engineering, University of Arkansas Fayetteville
Biography
---
Ph.D. in Electrical Engineering, 1962, Purdue, West Lafayette, IN.

Dr. Lindsey is an internationally known expert in the field of Communication Sciences and has over thirty years experience in deep space and satellite communication system architecting, engineering, design, analysis and simulation. His areas of interest include channel characterization, measurement, synchronization and communication techniques as applied to global mobile communication and navigation systems, satellite communications and personal communication networks. He has published more than 140 papers on various topics in communication and information theory and he holds several patents. His patents have been implemented in numerous communication satellite systems and ground station and mobile communications receivers located around the world.

Dr. Lindsey is a member of the National Academy of Engineering and a Lifetime Fellow of the IEEE. He has received several awards and honors and held numerous offices. He was one of the pioneering founders of the IEEE Communication Society, served on the Board of Governors and Editorial Boards of the IEEE,served as editor for the IEEE Transactions on Communications, and he has been the Technical Program Chairman for numerous national and international conferences on communications and telemetry. He serves on Commission C, Signals and Systems of the International Scientific Union (URSI) and the CCIR Standards Committee.


Research Summary
---
Adaptive coded modulation, channel characterization, PCS communications, satellite communications, smart modems/antennas, positioning systems.


Awards
---
2008 Southern Arkansas University 2008 Distinguished Golden Rider Award
2003 Service Award
2001 Other Awards
2000 Other Awards
2000 Other Awards
2000 Other Awards
1997 National Academy of Engineering
1997 Service Award
1993 Navy Award of Recognition
1980 Service Award
1974 NASA Certificate of Recognition
1974 IEEE Fellow
1974 Fellow IEEE - For Contributions to the Development of Advanced Communications and Synchronization Systems
1974 NASA/JPL Paper Awards
1974 Other Awards
1973 6. Paper Award - NASA Tech Brief B-731014
1972 5. Paper Award - NASA Tech. Brief 70-10242
1972 International Telemetering Foundation Outstanding and Dedicated Service Award
1971 4. Paper Award - NASA Tech Brief 20-10009
1971 NASA Cost Reduction Award
1971 NASA Cost Reduction Award
1971 nternational Telemetering Foundation Outstanding and Dedicated Service Award
1969 NASA/JPL Mariner Mars '69 Project Outstanding Performance Award
1962 Phillip Sporn Award
1959 Purdue University Fellowship
1958 University of Arkansas Senior Scholar
Appointments
Ming Hsieh Department of Electrical and Computer Engineering - Systems
Office
EEB 510
Hughes Aircraft Electrical Engineering Center
3740 McClintock Ave., Los Angeles, CA 90089
USC Mail Code: 2565
Contact Information
(213) 740-4675
wcl@usc.edu
Links