Han Wang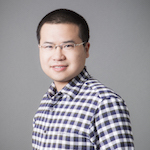 Robert G. and Mary G. Lane Endowed Early Career Chair and Associate Professor of Electrical and Computer Engineering and Chemical Engineering and Materials Science
Education
2013, Doctoral Degree, Massachusetts Institute of Technology
2008, Master's Degree, Electrical and Information Science, Cambridge University
2007, Bachelor's Degree, Electrical and Information Science , Cambridge University
Biography
---
Han Wang joined Ming Hsieh Department of Electrical Engineering as an Assistant Professor in August 2014. He received the B.A. and M.Eng. degrees in electrical and information science, both with highest honors, from Cambridge University, England, in 2007 and 2008. He received his PhD degree from Massachusetts Institute of Technology in 2013. From 2013 to 2014, he is with the Nanoscale Science and Technology group at IBM T. J. Watson Research Center in Yorktown Heights, NY. His research interests include the device technology and novel circuit applications of two-dimensional (2D) materials including black phosphorus, graphene, hBN, MoS2, WS2, etc., with emphasis on exploring both the fundamental understanding and new applications of novel nanomaterials in ubiquitous electronics, THz electronics, plasmonic devices, energy efficient applications, and interaction with biological systems. His past research also includes GaN-based III-V HEMTs for high power millimeter-wave applications and Si power electronic devices.

His work has been recognized with multiple awards including the Roger A. Haken Best Paper Award in IEEE International Electron Device Meeting (IEDM) 2012, MIT Jin-Au Kong Best Doctoral Thesis Award 2013, International Conference on Compound Semiconductor Manufacturing Technology (CS MANTECH) 2010 Best Student Paper Award, Cambridge University Agilent Prize and numerous fellowships. Dr. Wang has authored or coauthored more than 50 publications in distinguished journals and conferences. His work has been reported by Nature, Science, Nature Materials, IEEE Spectrum, EE Times and ACS C&E News.


Research Summary
---
Our research is at the intersection of nano-electronics, nanophotonics and materials science, exploring topics such as:
Advanced nanoelectronic materials for communication, sensing and energy applications
Science and technology of novel nanomaterials, e.g. black phosphorus, MoS2, WSe2, graphene, hBN, etc.
Energy-efficient electronics, optoelectronics and their interface with biological systems
New materials for THz electronics and power electronics application.
Han Wang Research Summary
Awards
---
2017 Nano Research and Tsinghua University Press (TUP) Top Paper Award
2017 National Science Foundation (NSF) CAREER Award
2015 USC Zumberge Faculty Research Individual Award
2013 MIT MIT Jin-Au Kong Best Doctoral Thesis Award
2012 IEDM Roger A. Haken Best Paper Award in IEEE International Electron Device Meeting
2010 International Conference on Compound Semiconductor Manufacturing Technology (CS MANTECH) Best Student Paper Award
Appointments
Ming Hsieh Department of Electrical and Computer Engineering - Electrophysics
Mork Family Department of Chemical Engineering and Materials Science
Office
PHE 630
Charles Lee Powell Hall
3737 Watt Way, Los Angeles, CA 90089
USC Mail Code: 271
Contact Information
(213) 821-4293
wang679@usc.edu
Links